Robber Bridegroom
On a Dark, Black, Halloween Night…(from Blog 27th October 2016)
Robber Bridegroom
This last page of Robber Bridegroom had me stitching with lots of black! Which is perfect for getting into the Halloween vibe... It has been a welcomed break from all the confetti encountered over the past few page finishes. I'm now at the end of the first row, which is an exciting place to be! This takes my stitch count for this project to 28,080 stitches, or 16.25 percent complete.
Current progress:
In the Shadows
I've added e310 light effects to the hair section (which was not charted). I phased out the metallic thread in a sloping curve to match where the hair highlights ended. Otherwise the light effects beyond would have highlighted a section meant to be in the shadows, which would most likely not look correct!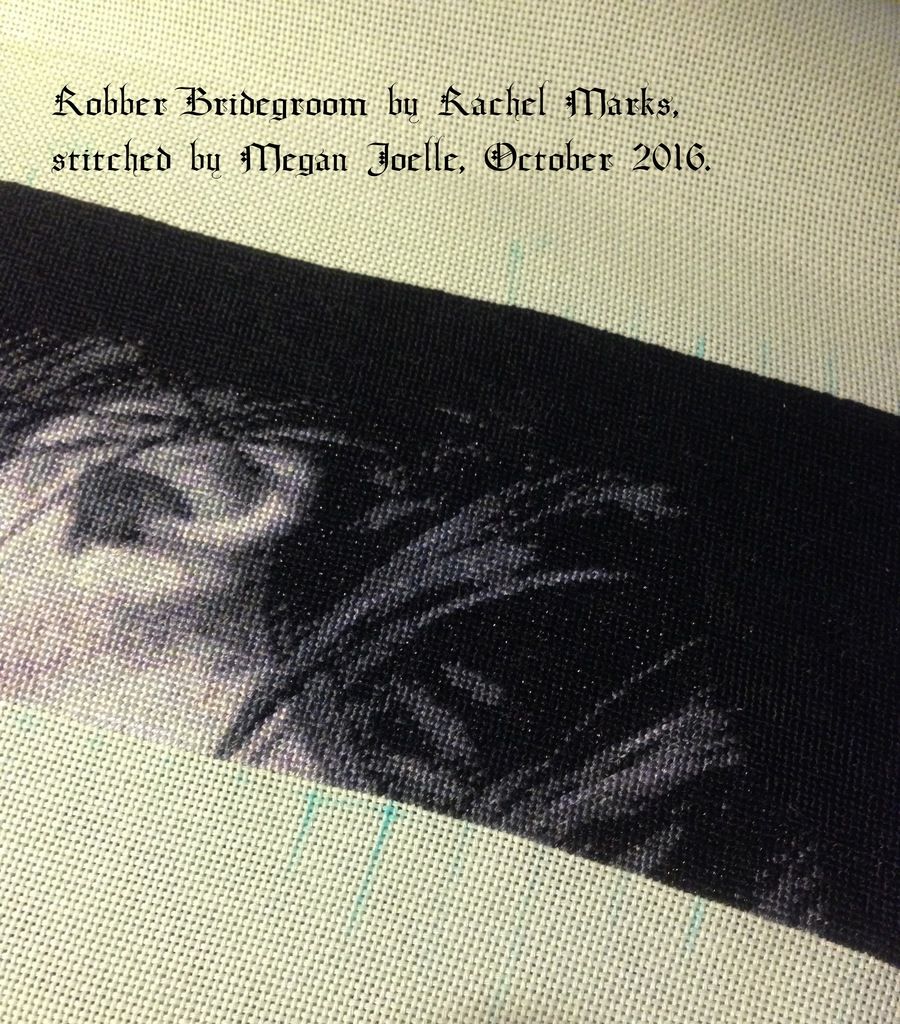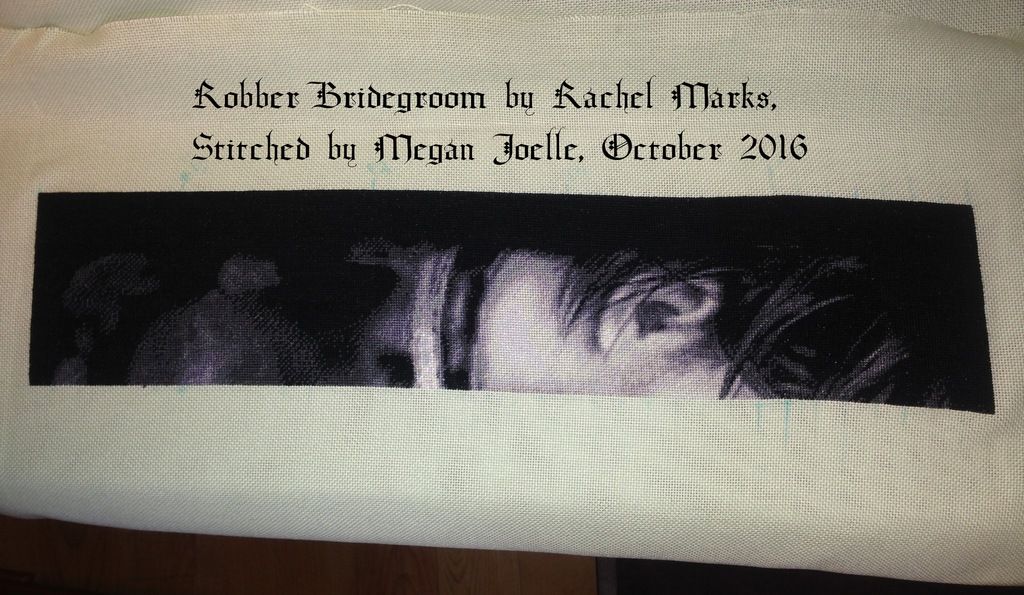 Update from January 2016: "All The Better To Hear You With" Blog
Here is page 4 of Robber Bridegroom completed. My man now has his ear and hearing intact! ;)
This is the first page I've used the Light Effects e310 on. I'm very happy with the effect it's created on the hair! It's very difficult to capture the effect in a photo so I made a short clip. Apologies as the camera on my phone is not great quality… Still it gives a better idea of the sparkle effect than the photo.
Light Effects e310 on Robber Bridegroom:
The total percentage complete on this is now at about 13 percent and the top row is almost complete.
Update from September 2015: "An Ode to Metallic Thread" Blog
I've started stitching Robber Bridegroom again! I was really excited to find that DMC have darker metallic thread in their light effects range corresponding with the 310 and 317 in this chart. The light effects e310 is a shiny black colour and I've decided it will look amazing blended in with the normal DMC black for the hair. I also got some e3747 along with the e317 to work in with some of the lighter more blue based tones in the clothing.
Here are all the metallic threads I will be using:
Tresure Braid PB10, Kreinik 032, Light Effects e310, e317, e3747 and e5200:
I have a pretty extensive plan for adding the metallic threads to the chart. The plan is based on some test patches I did with a whole lot of different blends of metallic threads combined with particular DMC threads in the chart. Also I've been through the whole pattern and looked at what colours are where to give me an idea of how to blend and combine threads. I've just got to bring out the metallic's now I've launched into stitching page three! It's very difficult to capture just how sparkly it is. It's very pretty in reality and it's annoying that my camera won't capture it very well. I've done some close up progress shots to try to convey the colours and metallic threads in a truer light:
The collar and cuff of the man's tunic will both be sparkly. I am adding some light effects to the highlighted areas of the skin only. This will give it a slight sheen but it will be a subtle effect in comparison to the clothing sections that have metallics.
Page 3 completed: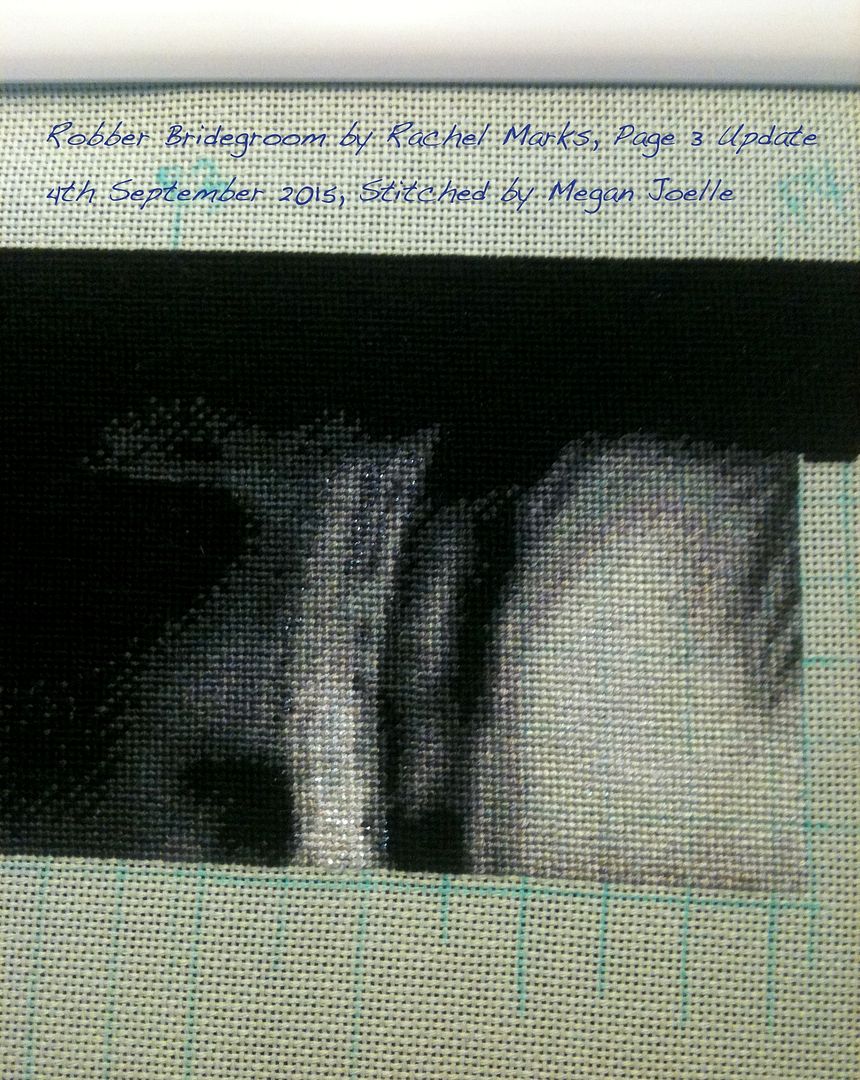 I am stitching the DMC normal floss first… then I go over it with one strand of the metallic so the metallic sits on top for maximum sparkle/effect! I am using different amounts of threads depending on the colour and also depending on whether there is a metallic added to it. Also, I sometimes drop a strand if using more than 2 strands in a confetti heavy sections in order to stop the stitching from becoming bulky.
This is an outline of what I'm doing:
As to what I'm blending with what... well it's different depending on what section of the chart is in question!

In case anyone is interested for the collar I used:
Light effects e317 over the 317
Light effects e3747 over 415
Treasure Braid PB10 over 3072
Kreinik 032 over 762
I'm excited to see how it evolves! It's fun putting my own stamp on it by adding the metallic threads!
End of April 2015
The topic of using different amounts of strands has come up after I mentioned my plans for mixing my strand amounts in Robber Bridegroom. In case you missed it I intend to use 5 over 1 on black, 4 over 1 on darks colours, 3 over 1 on mid-tones and 2 over 1 on light tones. A major thing I've realized with tent stitching is different amounts of strands can be mixed in one project without it being noticeable. I've done this with Nocturne to a smaller degree by successfully combining 2 over 1 and 3 over 1. This works because the different floss colours/tones effect the way the thread is perceived once it's stitched into the fabric. My point is that in the past I have stuck with a uniform amounts of threads for most pieces because for some reason I had this limitation in my mind about not mixing thread combinations… However, I have found tenting has required me to use different amount of strands in the one project to get optimum results. As a result of experimenting with these combinations I am much happier with the stitching! With Robber Bridegroom I'm working out strands amounts out on a colour by colour basis as I go along... I will post more details on the amounts of strands being used on each DMC shade once I'm a bit further along and have established exactly what I'm doing ;)
Current progress, page 2 finished (does anyone else see a duck in the "blobs?"):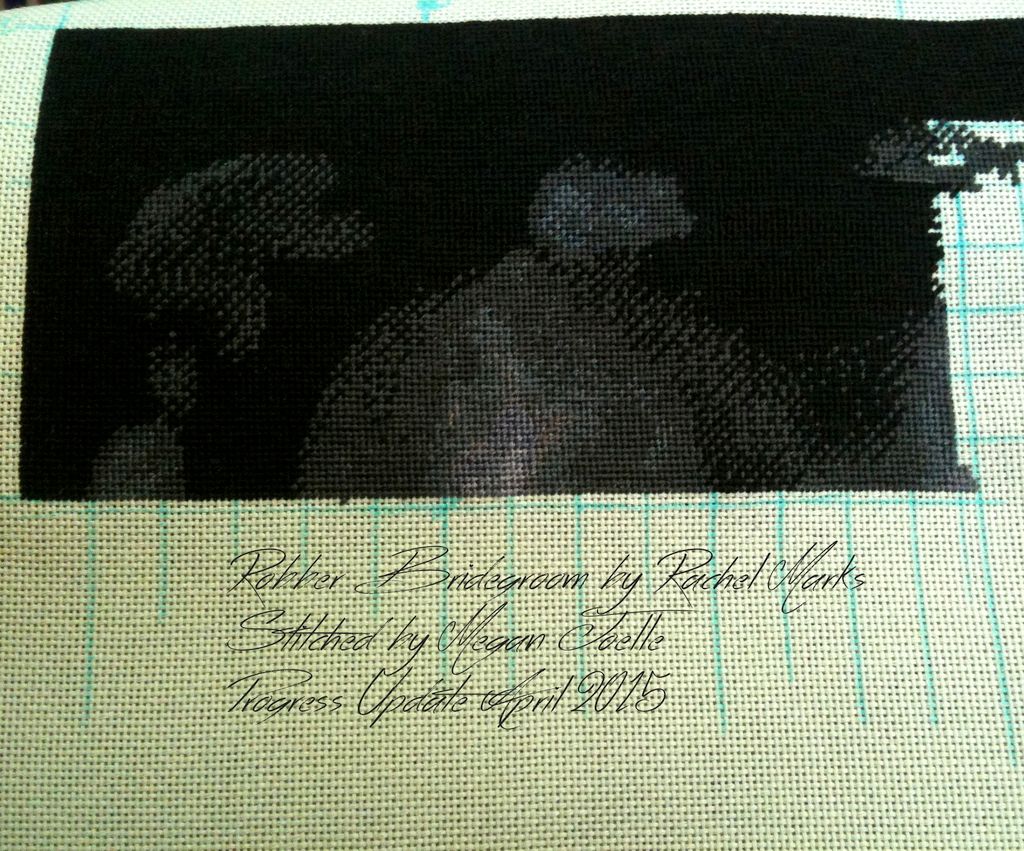 Start of April 2015
The Three Little Birds is a Grimm Fairytale and there seems to be a fairytale theme going on at the moment with my newest chart acquisition. As previously mentioned
Heather from Fantasy Cross Stitch
gifted me with a chart. Thanks again Heather! At the same time she decided to purchase her first HAED, the gorgeous
Rapunzel
chart by Annya Kai. So we have both picked fairytale charts! The chart I choose was Robber Bridegroom by Rachel Marks. As a rule I don't normally gravitate towards the monochromatic designs since I'm such a big fan of color! However, I broke the rules for this chart. It just really spoke to me.
Chart Mock-up:
Link to chart
Time to stock up on black LOL! There are 24 skiens of black needed for 25 count but I'll need more than that on the 20 count. My current estimate based on what I've stitched so far is about 40 skiens! It's not all that bleak though! There are actually 16 different colours in this chart. The charts I have been working with have anywhere from 90 to 120 colours, so I think I will enjoy the simplicity of fewer colours for a change! I am tenting this on mint coloured 20 count lugana, using a combination of strands depending on the colour I am stitching with… Black will be 5 over 1, dark shades will be 4 over 1, mid tones will be 3 over 1 and light tones 2 over 1. The chart has no metallic so I want to incorporate some treasure braid, light effects and kreinik! I will work these in with some of the whites and lights.
Most of the floss colors for Robber Bridegroom (several colors missing & metallic's added):
My start on Robber Bridegroom (Started 27th March 2015):