Treasure Hunt
Update from June 23rd 2017 (Buried Treasure Blog)
Back to Stitching...
Treasure Hunt Bookshelf has been buried in my wip pile for awhile, so I decided to get it out and stitch for a bit! I last worked on this back in June 2015! With so many wips, it's kind of unavoidable that some of them start to get neglected. Still it's been such a long time since working on it, that it almost felt like a new start lol!


Update from June 26th 2015 ( Some Treasure & A Little Mystery Blog)
The hourglass is starting to appear!: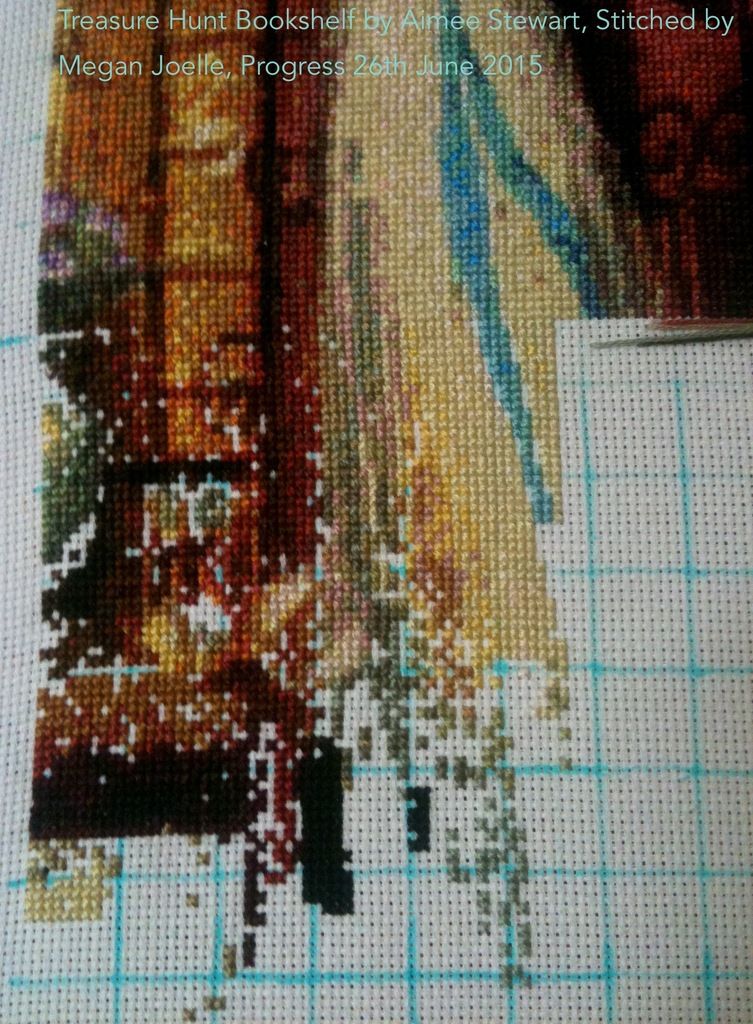 Update from 22nd May 2015 (From Stitching Plan Blog)
I just completed page four of the Treasure Hunt crop!
I've started experimenting with a little bit of simple parking when it makes sense to do so (most of the time my brain doesn't allow it, as cross country stitching just makes more sense to me, lol). However, in this case I found it did make sense to park some unfinished threads from the bottom of page four onto page 6 (directly underneath). Parking these threads will save me the time of finding, cutting and starting those floss colours again when I get to page 6. With the orientation of pages they can also be tucked out of the way easily so I don't get them tangled or in the way on page 5!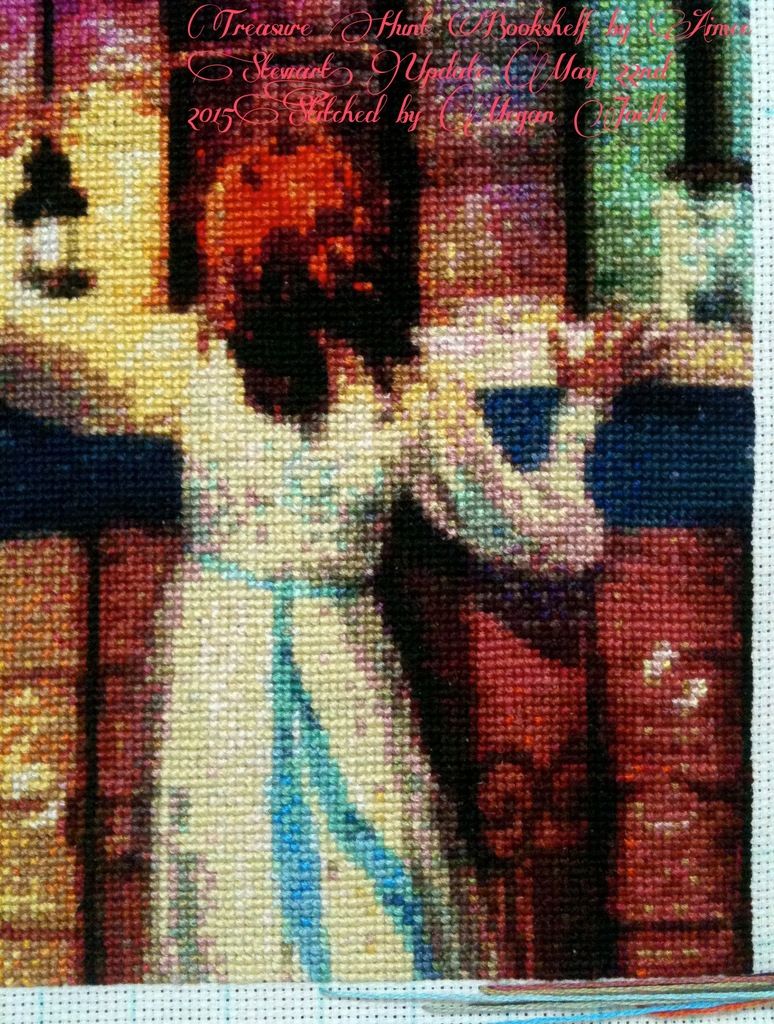 Hunting for Treasure (23rd February 2015)
The project was not fitting on my q-snap frame well (I had to hold it with the longer length as the height, which just felt weird) so I went a hunting for my old scroll frame, which has been tucked away in the cupboard catching dust for some time! All of my other projects are too big for this frame but Treasure Hunt fits on there nicely. Now I'm back to stitching with the frame being longer in width which feels less weird!
Having the two frames in use means I can work multiple projects and not have to swap projects on and off the q-snap as much :D Yay! This was also timed well because now the stitching won't end up with indentation marks from the q-snap frame, as I was just needing to move the stitched area up under the "snaps". Unfortunately the tension on the fabric is not as good on the scroll frame. I've remedied this by attaching a pair of bulldog clips to each side. Some of my knitting stash came in handy for fixing the clips to the sides so the fabric could be pulled tighter! This is working well so far :)
Scroll frame with clips: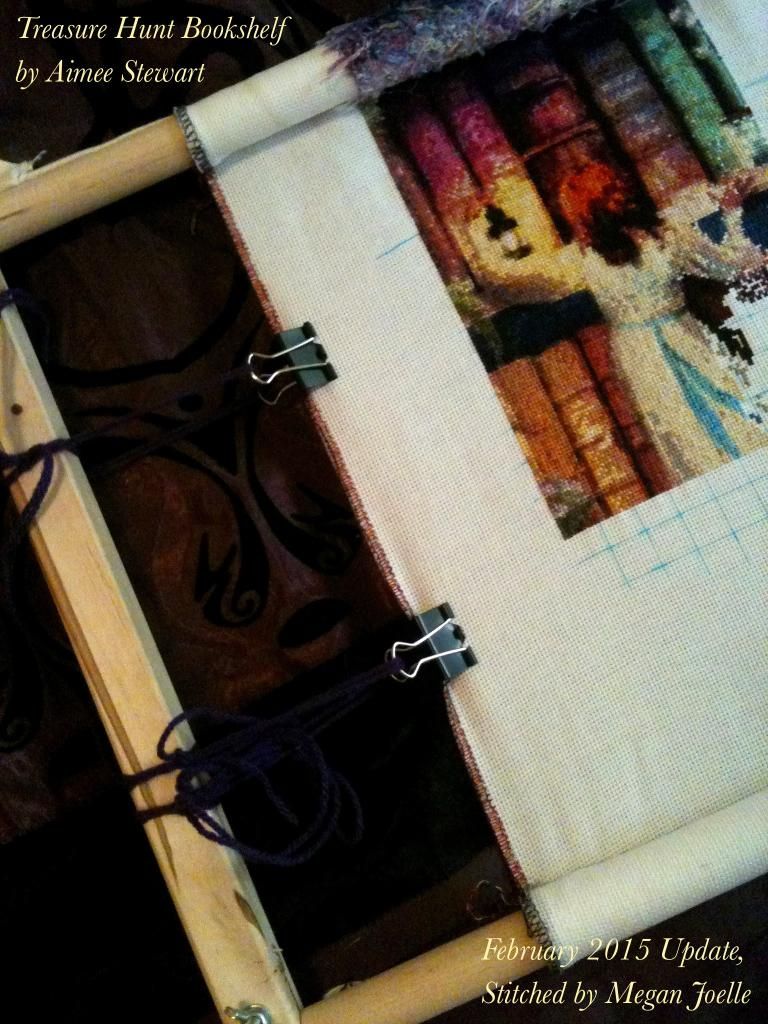 Current Update: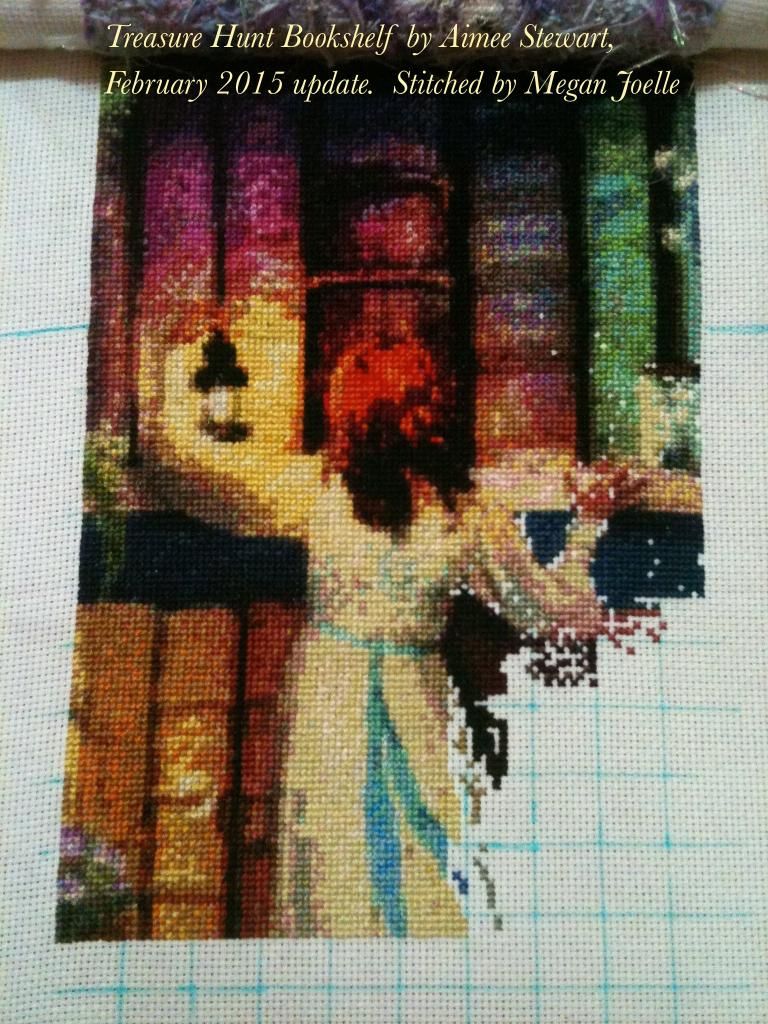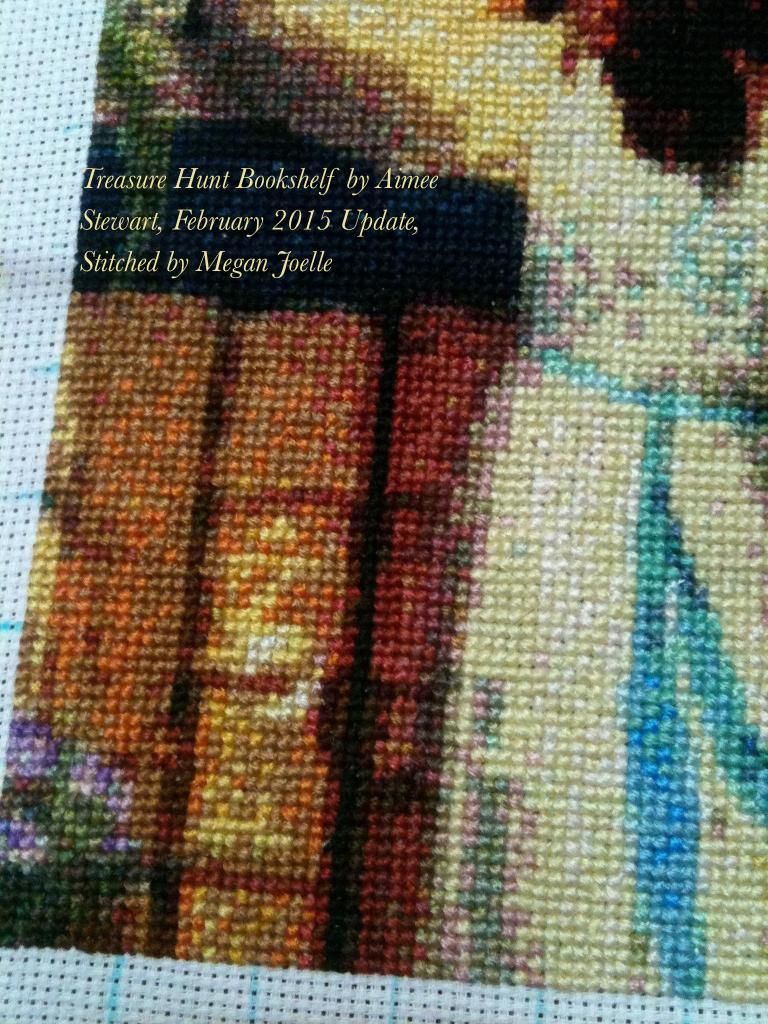 Treasure Hunt Bookshelf Update November 2014
I have made some progress on Treasure Hunt! I have been wanting to go back and work on Iris though because the next page has lovely colours... So I've put this one down for the moment because I couldn't resist :)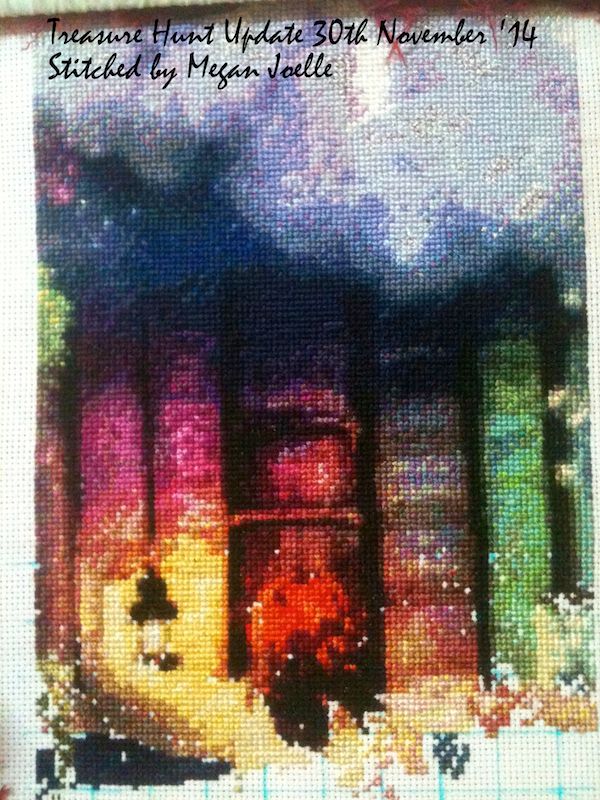 Treasure Hunt Bookshelf Update October 2014
I've finished the top row on the Treasure Hunt Bookshelf Crop! I have just started stitching the lantern and the colors are still amazing! You can just make out the word "Book" on the pink book. Actually it kind of looks more like "Boo!" Unfortunately the detail of the book titles is not that clear, but I still think it's a lovely chart. This is the normal size version so the titles would possibly be clearer on the larger version chart. I don't normally grid my stitching but have found it helpful to do so with the confetti in this chart.
Stitched on 18 Count Aida
3 over 1 Full Cross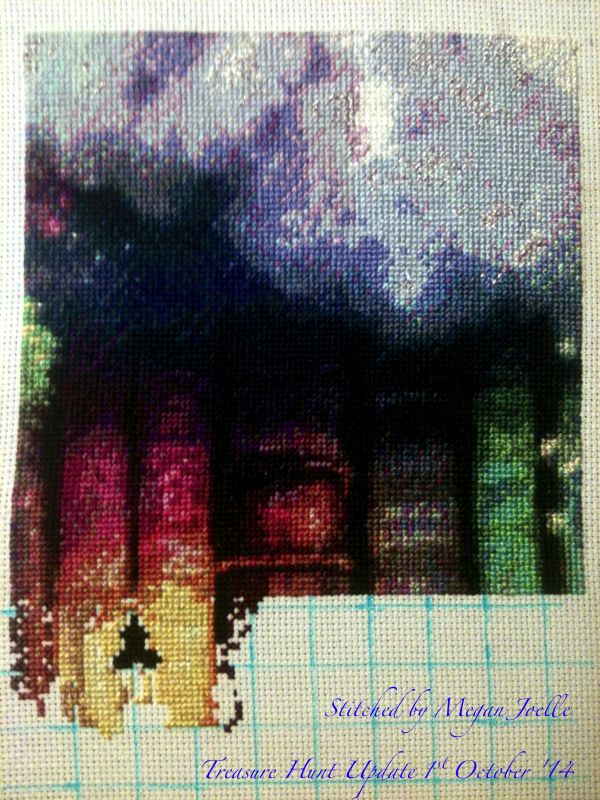 Treasure Hunt Bookshelf Update June 2014
I have done heaps more stitching on this recently! So many single stitches left to fill! I'm really loving the colors anyway :)
Treasure Hunt Bookshelf Update
The stitching seems to be going quickly on this because of I'm working on a larger count than usual.

Now I want to do all my projects on 18 count fabric! It takes a bit of getting used to switching between 18 and 22 count, as I have been going back and forth between this and Umbrella Sky.

E

ven though my eyesight's pretty good, 1
8 count is definitely easier on the eyes!
Start on Treasure Hunt Bookshelf Panel by Aimee Stewart
Here is the start on my next project, a long skinny panel out of "Treasure Hunt Bookshelf" by Aimee Stewart. It's from the "normal sized version" of the chart. This is the smallest project I've ever done, enabling me to use a larger count fabric for the first time! I'm using 18 count Aida (3 over 1) and love it! So far the pattern is very detailed and full of confetti… but this doesn't seem to be bothering me yet because the colours are so pretty. I can't imagine the mini version of this- the confetti would be insane!!!