Iris Keeper of the Rainbow
Yipee! I've Finished Challenge #3!!! (From Blog September 2016)
My stitchy bug is still missing and I've still got severe pain in my ears. Although, despite not feeling great, I've managed to persevere and finish the Challenge!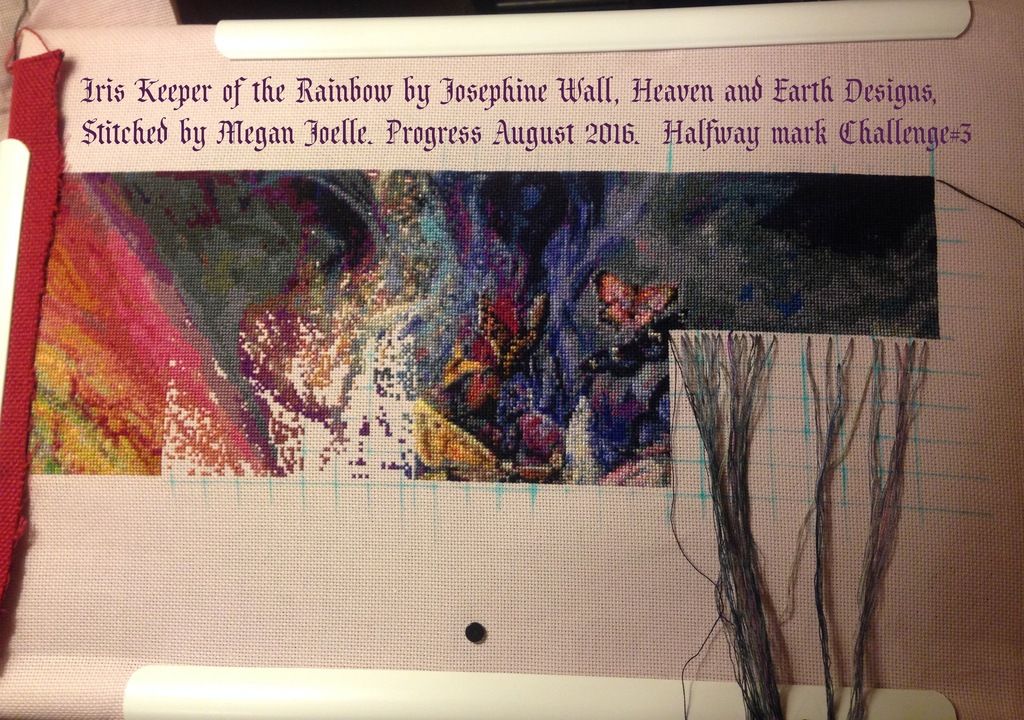 More progress: The parking became a bit intense towards the bottom of the page!
Page 5 completed: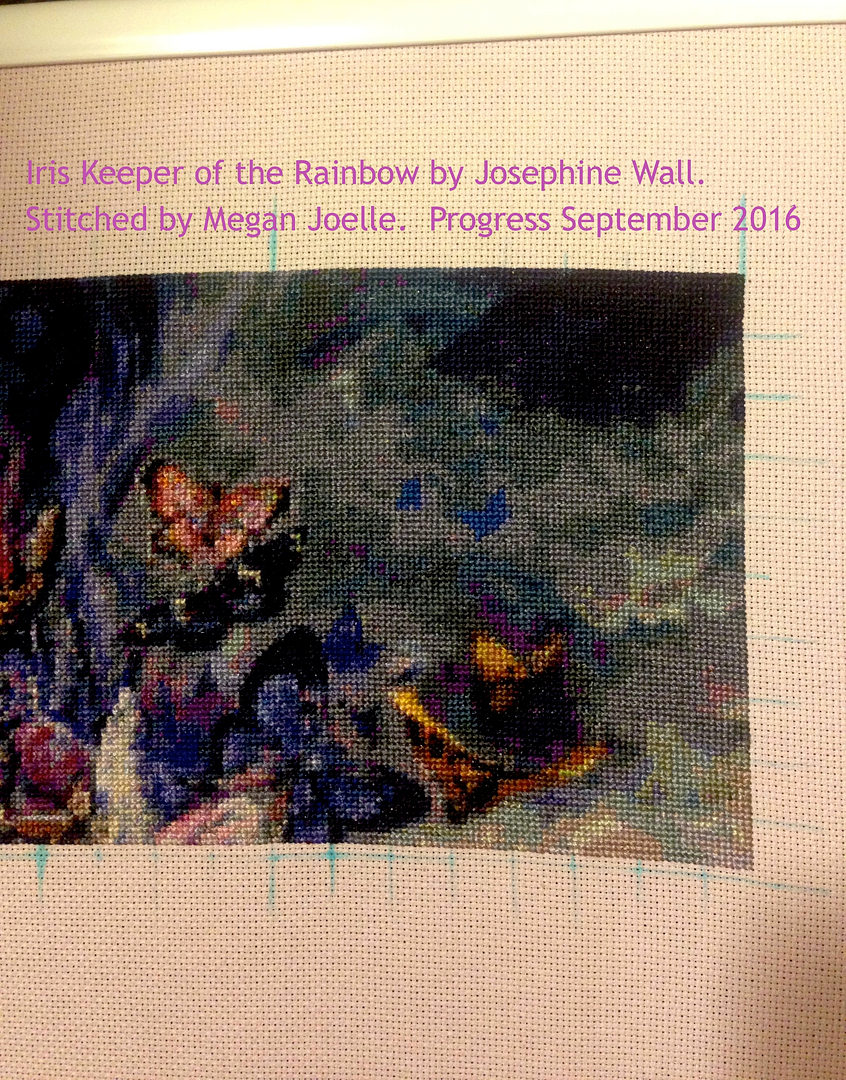 Overall progress to date:
I obviously need to go back and finish page three... Iris is coming off the q-snap for a bit now though!
Oh Where, Oh Where has my Stitchy Bug Gone? (From Blog August 2016)
My stitchy bug seems to have run away! I've had this horrible ear infection for just over a month and a half now. So it seems I've swapped one bug for another! It's been really painful... Everything's moving very slowly at the moment as I haven't felt well enough to do much, but I've still managed to get to the halfway mark with Challenge #3.
Previous progress: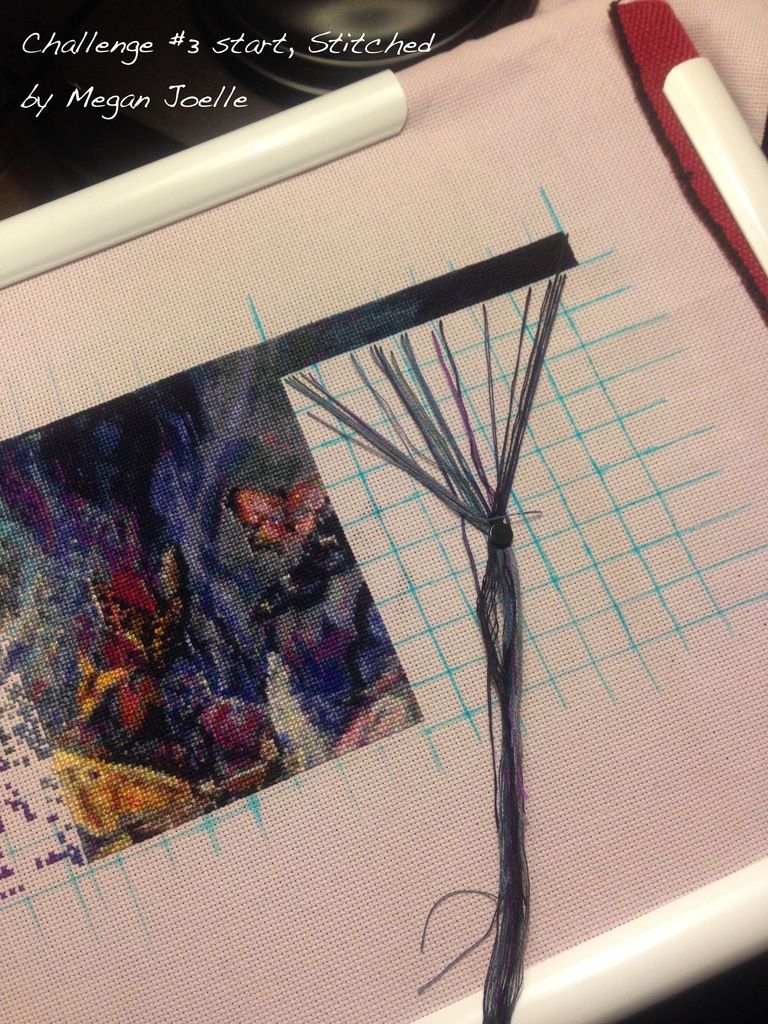 Current progress: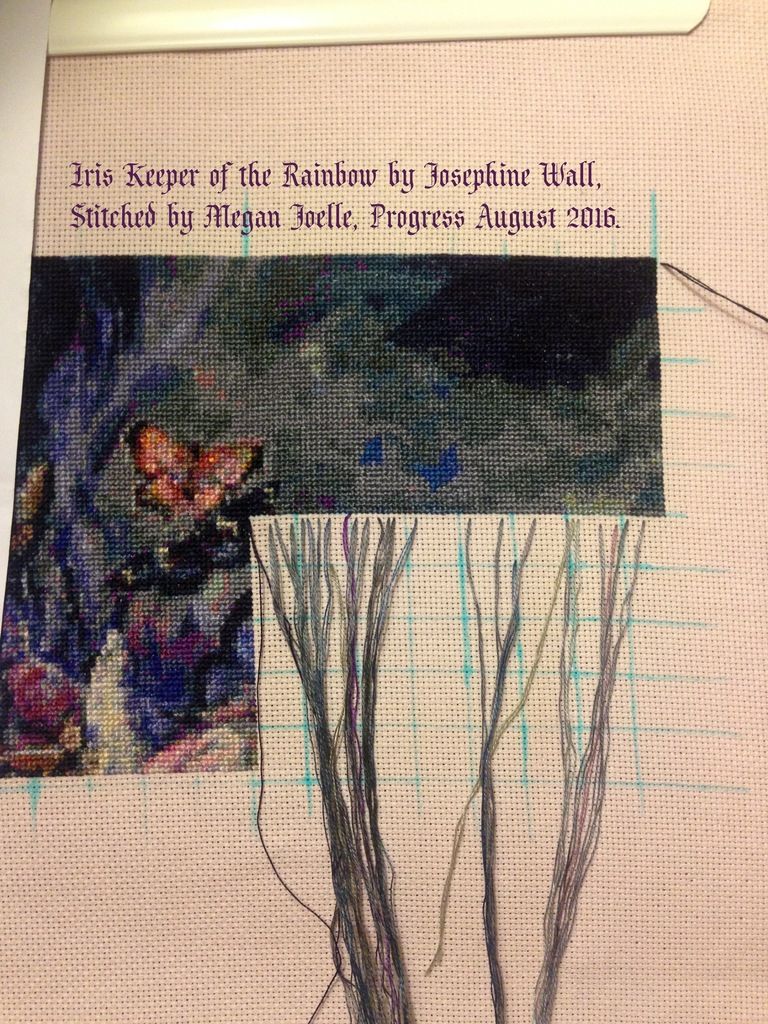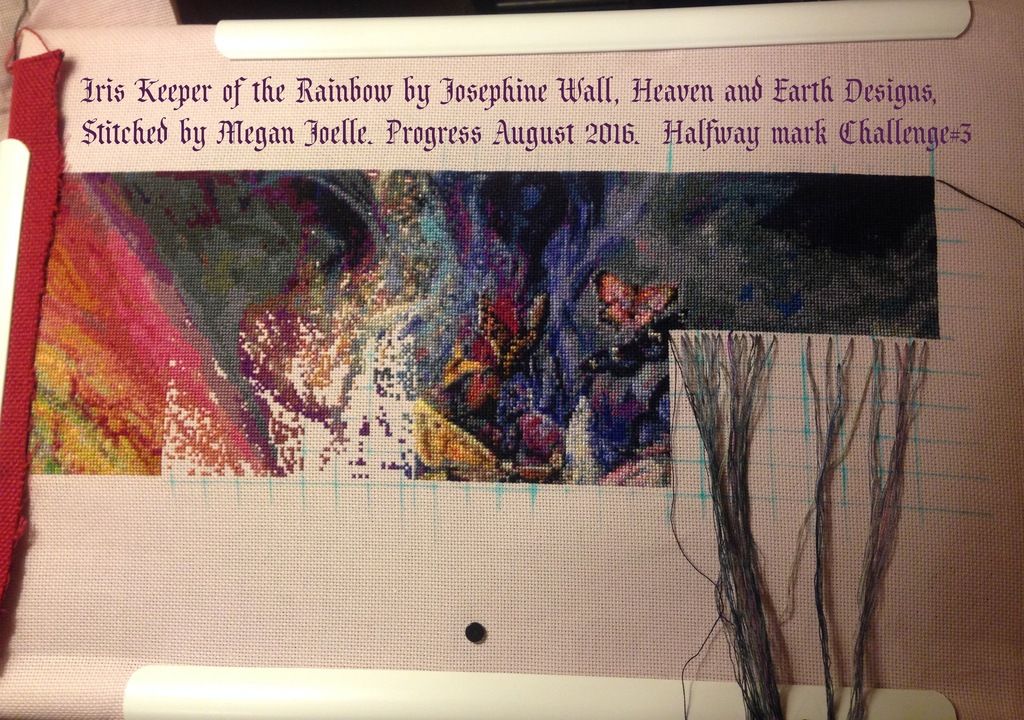 How Many Colours??? (From Blog June 2016)
Woohoo!!! I've finished Challenge #2!
I've been flat out moving house and didn't think I was going to get there. There ended up being exactly 100 colours on the page! Talk about epic!
Iris Keeper of the Rainbow by Josephine Wall, page 4.
Page 4 finished:
I enjoyed this method and will definitely try it again on a page with less confetti. I'm not sure that it ended up being any quicker than normal because the confetti was pretty full on, so it just felt like it went on forever! Looking forward to switching wips for a bit now. Bring on Challenge #3!
Moving Right Along! (From Blog May 2016)
I'm still going on Challenge #2! I've managed to keep up with the average of one colour a day and have now completed 50 colours in 50 days! I'm moving house very soon and there seems to be lots happening at the moment, so the stitching has been neglected a little. With 25 days or so left and considering my average hopefully there will be no more than 75 colours!
Current progress, 50 colours:
Hoping to be able to finish the Challenge soon, along with packing... Matisse (my cat) has been having the time of her life playing with all the boxes!
Challenge #2, 22 Colours in 22 Days!! (From Blog April 2016)
Iris Keeper of the Rainbow has been pulled out for the Official HAED Facebook Challenge #2. I chose to work on this chart because there's a ton of confetti on page four. A detailed page like this would typically take two months to stitch using my usual cross country method. The challenge goes for two months, so I may be pushing my luck to get it completed! I'm intrigued to test whether this new "Challenge method" will speed things up and be a more effective way of working.
Progress at Start of Challenge:
The Challenge involves stitching one colour at a time over the whole page before moving onto the next colour. This is different to how I usually work, using a variety of colours in a confined space. I started out stitching colours with the most stitches in order to get an area to anchor surrounding stitches to. Then switched to random selection, choosing the symbols which stuck out the most! Gridding does seem essential when working like this, otherwise it becomes very easy to make mistakes. Even with the grid I accidentally went over one column too far and had to frog some stitches, which is a rare occurrence for me… Thankfully the mishap was caught quickly due to the gridlines!
First 11 colours completed on page 4:
First 22 colours completed on page 4:
Close up of page 4 :
There are 120 colours in this chart… They are not all on this page but there are certainly many more colours to fill in. Fingers crossed this page will be finished before the Challenge finishes!
Update May 5th 2015
I have been stitching away on Iris have some progress to show on page three.
Progress Update: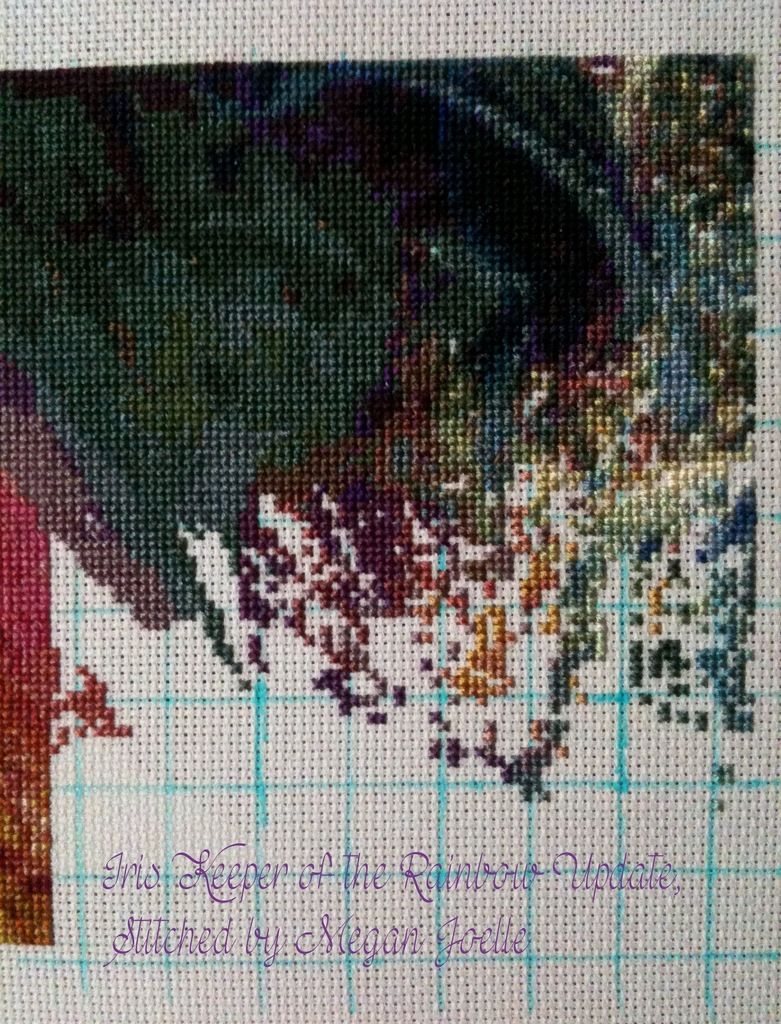 Update, March 7th 2015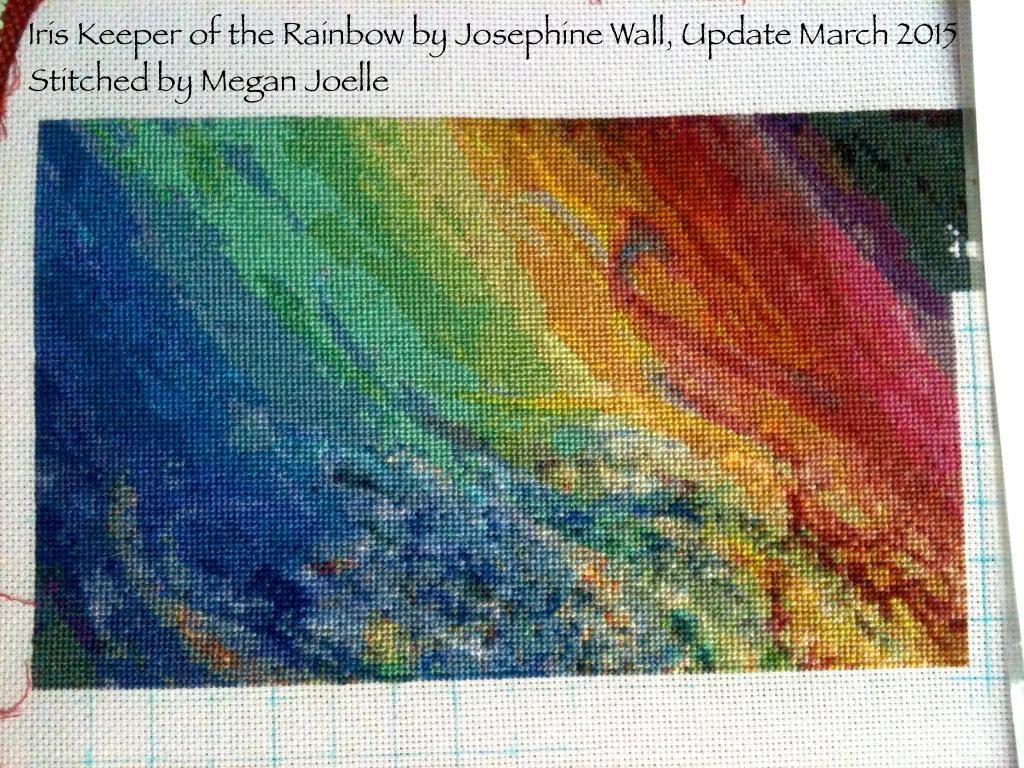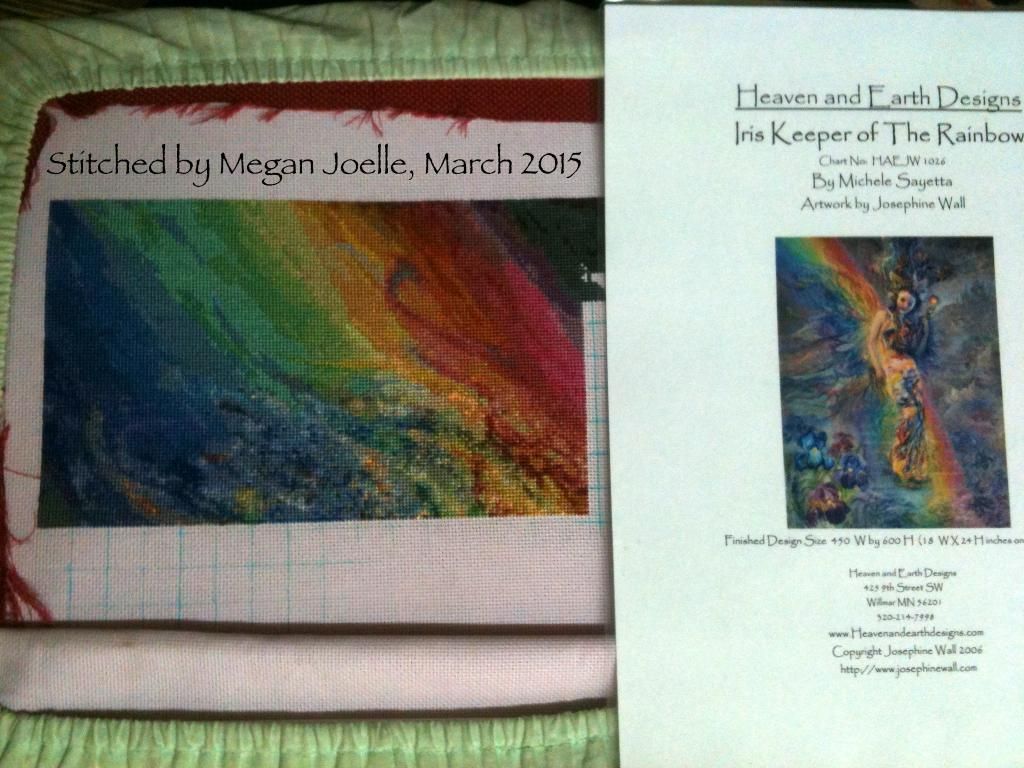 Confetti close up: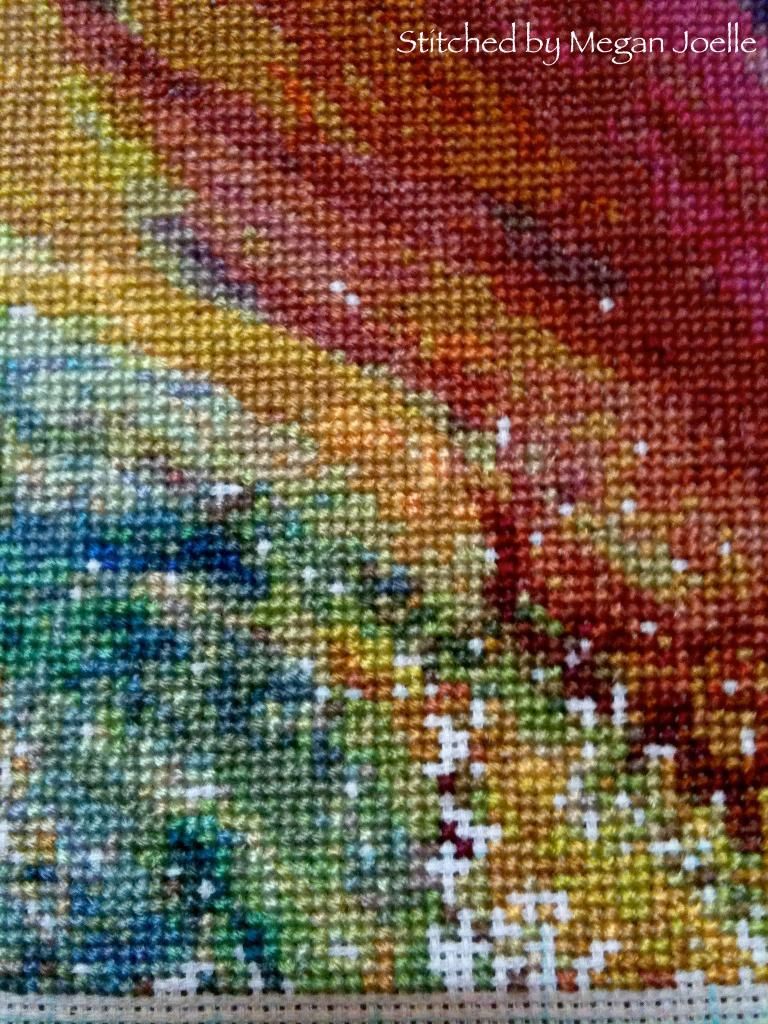 The small dent this has made in the overall piece! (Please excuse the wrinkles in the fabric):
Progress Update End of 2014:
I've been working on Iris and have almost finished another page. I've just tucked into another confetti heavy section. The colors on this page have just been a delight to stitch.

Page One Finished 31st October 2014:
Here is my start on Iris Keeper of the Rainbow (started September 14th 2014). After all the navy stitches in Nocturne I have really enjoyed using some brighter threads! Although I should probably be posting something dark and scary in light of Halloween Celebrations :) I am enjoying stitching this one on 20 count Aida (2 over 1, full cross) Happy Halloween and stitching!
Start of Confetti Section: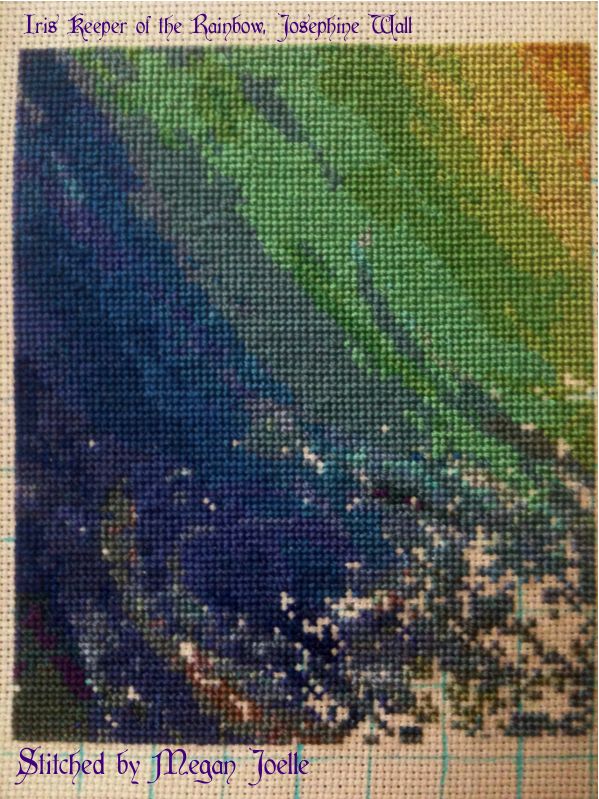 Page One Finished:
Rewards Program
I finished Umbrella Sky in time to enter the Heaven & Earth Rewards Program. The chart I picked for the reward is Iris Keeper of the Rainbow by Josephine Wall. I seem to be getting quite a collection now! This is a huge chart at 450x600 stitches!
Original Art:
Chart Mock-up:
Click here for link to pattern