Stitching Plans
This year I am participating in the HAED BB SAL (Heaven and Earth bulletin board stitch a long). At the start of the year I set the following goals for 2015:
Treasure Hunt: pages 3, 4, 5, 6 ( have currently completed pages 3 & 4)
Nocturne: pages 4, 5, 6, 8 (have currently completed pages 4 & 5)
Iris: page 2 and 3 (have currently completed page 2 and about half page 3)
Even though I'm about halfway there I still feel there is lots of stitching remaining! Especially on Treasure… One page of treasure seems to take forever! I really want to meet these goals and have been trying to work out a rotation that meets them and also introduces the new pieces I've started… but from my calculations I'm being a bit ambitious. So the plan is to focus on the goals I originally set and to also get the mystery chart completed by the end of the year so it can be gifted. That's going to be a challenge in itself as that mystery chart is the most detailed pattern I've ever attempted. I do hope to throw in some updates on Robber and Spirit every now an then but it all depends how my goals are progressing… Isn't it funny how the one you are "not allowed to" or meant to be working on screams at you the most/loudest ;) Robber really wants me to keep stitching it lol… As you can see from my above goals and progress, I just completed page four of the Treasure Hunt crop!
Previous Progress:
Current Progress: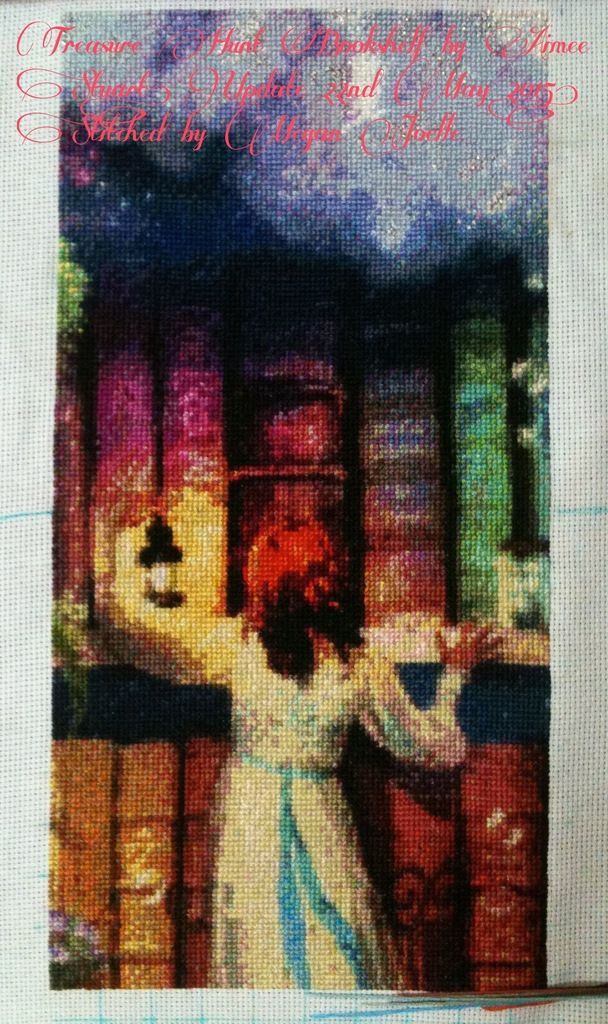 I've started experimenting with a little bit of simple parking when it makes sense to do so (most of the time my brain doesn't allow it, as cross country stitching just makes more sense to me, lol). However, in this case I found it did make sense to park some unfinished threads from the bottom of page four onto page 6 (directly underneath). Parking these threads will save me the time of finding, cutting and starting those floss colours again when I get to page 6. With the orientation of pages they can also be tucked out of the way easily so I don't get them tangled or in the way on page 5!
Mystery Chart
I am feeling very overwhelmed with the detail in this pattern, it's moving much slower than I anticipated... However, all the detail does mean that it's turning out amazing! In fact I'm delighted with the results so far!
Previous Progress:
Current Progress: