The Three Little Birds… Oops… I mean The Three Rather Large New Starts!
The Three Little Birds is a Grimm Fairytale and there seems to be a fairytale theme going on at the moment with my newest chart acquisition. As previously mentioned
Heather from Fantasy Cross Stitch
gifted me with a chart. Thanks again Heather! At the same time she decided to purchase her first HAED, the gorgeous
Rapunzel
chart by Annya Kai. So we have both picked fairytale charts! The chart I choose was Robber Bridegroom by Rachel Marks. As a rule I don't normally gravitate towards the monochromatic designs since I'm such a big fan of color! However, I broke the rules for this chart. It just really spoke to me.
Chart Mock-up:
Link to chart
Time to stock up on black LOL! There are 24 skiens of black needed for 25 count but I'll need more than that on the 20 count. My current estimate based on what I've stitched so far is about 40 skiens! It's not all that bleak though! There are actually 16 different colours in this chart. The charts I have been working with have anywhere from 90 to 120 colours, so I think I will enjoy the simplicity of fewer colours for a change! I am tenting this on mint coloured 20 count lugana, using a combination of strands depending on the colour I am stitching with… Black will be 5 over 1, dark shades will be 4 over 1, mid tones will be 3 over 1 and light tones 2 over 1. The chart has no metallic so I want to incorporate some treasure braid, light effects and kreinik! I will work these in with some of the whites and lights.
Most of the floss colors for Robber Bridegroom and my start on Robber Bridegroom: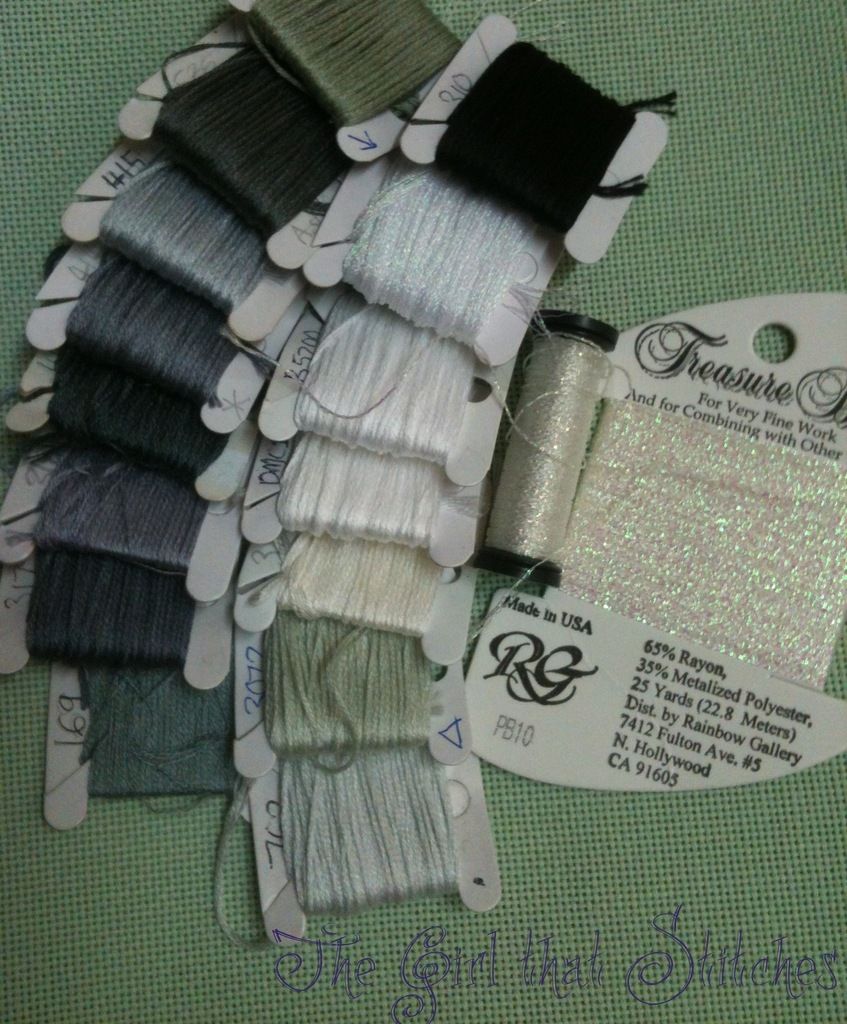 Spirit of Flight
Spirit of Flight by Josephine Wall is also on the list of new starts. I was lucky to have this gifted to me by the lovely
Karen at Ft Ft Ft Stitch
some time ago. I haven't forgotten about her Karen! I did start this awhile back and got halfway though the first page before deciding I hated the fabric and needed to restart. I purchased some pale yellow lugana for this and only just restarted it as it's taken awhile for me to to decide on fabric and thread combinations.
Above: Truer depiction of fabric color as stitching close up photo washes it out. Below: Start on Spirit of Flight, bottom left corner (Started 1st April 2015).
Mystery Start
The third start is my first non-HAED chart! Like Spirit of Flight there are also birds in this one… I'm not revealing the whole picture yet as this is going to be a gift. It's a really heavy confetti piece so I hope I can get done in time, especially with the distraction of the HAEDS! Here is the top left corner anyway. It's also using the same thread and fabric combination as Robber Bridegroom (with 4 over 1 on black as black confetti stitching needs less strands than black block stitching).