Sparkly Clouds & Violins
I have finished page five of Nocturne! There is one more page of clouds to stitch to complete the first row. Awhile back I decided to try Petite Treasure braid PB10 thread from Rainbow Gallery. This page full of sparkly cloud stitching was a great opportunity to test out the PB10 and compare it with the Kreinik #4 032 (very fine braid) metallic. I found they were not all that different to stitch with. However, I did prefer the feel of the Treasure Braid because it frayed less when trying to thread it onto the needle and therefore I felt there was more integrity to the thread. At a subtler level the Treasure Braid also seemed to sit slightly neater in the stitching because the integrity of the thread seemed sturdier.
I also found the tones in each were slightly different and they both caught the light differently. The Krienik has an orange/gold tone running through it (which is absent in the Treasure Braid) and the Treasure Braid has a hot pink tone running through it (which is absent in the Kreinik). I slightly favored the tones in the Krienik, even though these differences are only really noticeable looking at the thread close up. Although the Treasure Braid did noticeably have more sparkle/shine from a distance and I like sparkle! I think it's also worth mentioning that you get twice the amount of braid per unit with the Treasure Braid so it's definitely good value.
Megan's Metallic Test: Metallic 1: Kreinik #4 032. Metallic 2: Petite Treasure Braid PB10
The above sample was stitched on 25 count Lugana fabric using tent stitch. First I tented with one strand of DMC 3770. Then I tented over the top of the 3770 with one strand of metallic thread (any light DMC thread in your pattern could be used for this purpose). I stitched them separately to ensure the metallic thread sat on top. I did tests without the 3770 underneath and in my opinion the the results were not as nice. The stitching looked duller without the 3770 and the coverage did not seemed as full.
So after all that talk on sparkle, lets get to Nocturne!
Previous progress: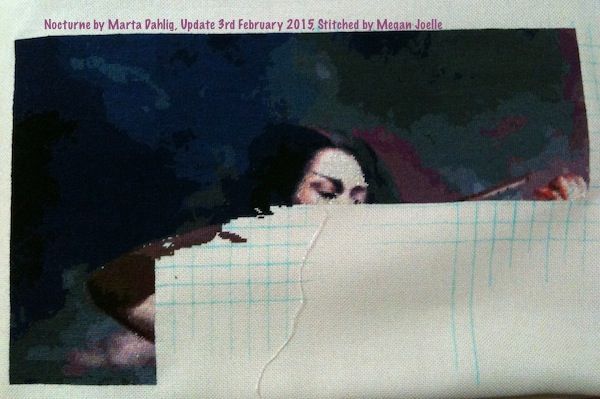 Some mid page sparkle (I continued stitching with the Treasure Braid after testing both metallic threads):
Page five finished: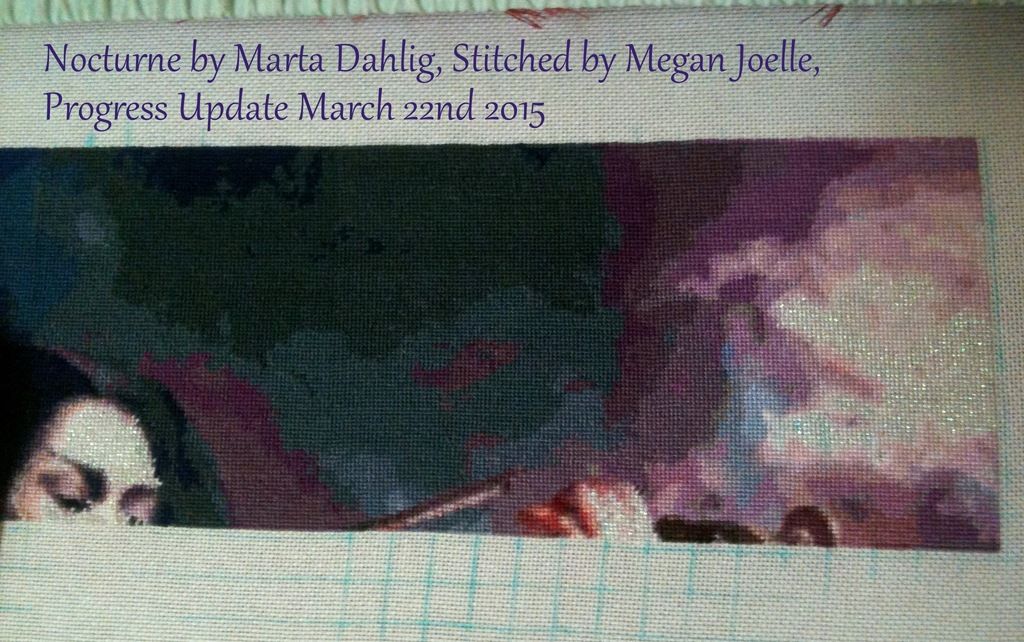 Please feel free to share your experience stitching with metallic threads! I would love to know which metallics you prefer using! ;)