Rainbow Girl II
Sing a Rainbow (From Blog June 2016)
The second page of Rainbow Girl is finished! I've completed all the rainbow in this column of pages now. I'm tempted to skip to the next column and continue with the rainbow, but will persevere and finish this column first. The next two pages will be the animals, so there will be lots of brown and dark colours. Deer antlers and birds are already appearing at the bottom of this page!
A Rainbow Checkerboard (From Blog Update February 2016)
Diagonal Challenge #1
There are six challenges to be posted on the Official HAED Facebook page this year. The first challenge involved stitching 1000 stitches in 10x10 diagonal blocks. I pulled out Rainbow Girl for this and it was nice to change things up and work differently to normal!
A Game of Chess!
I don't usually park but it made sense to do so when working in blocks. Even though lines are not meant to form working diagonally, I still felt slightly apprehensive about the possibly of this happening. I figured parking may lessen the risk by helping to even out the tension between squares.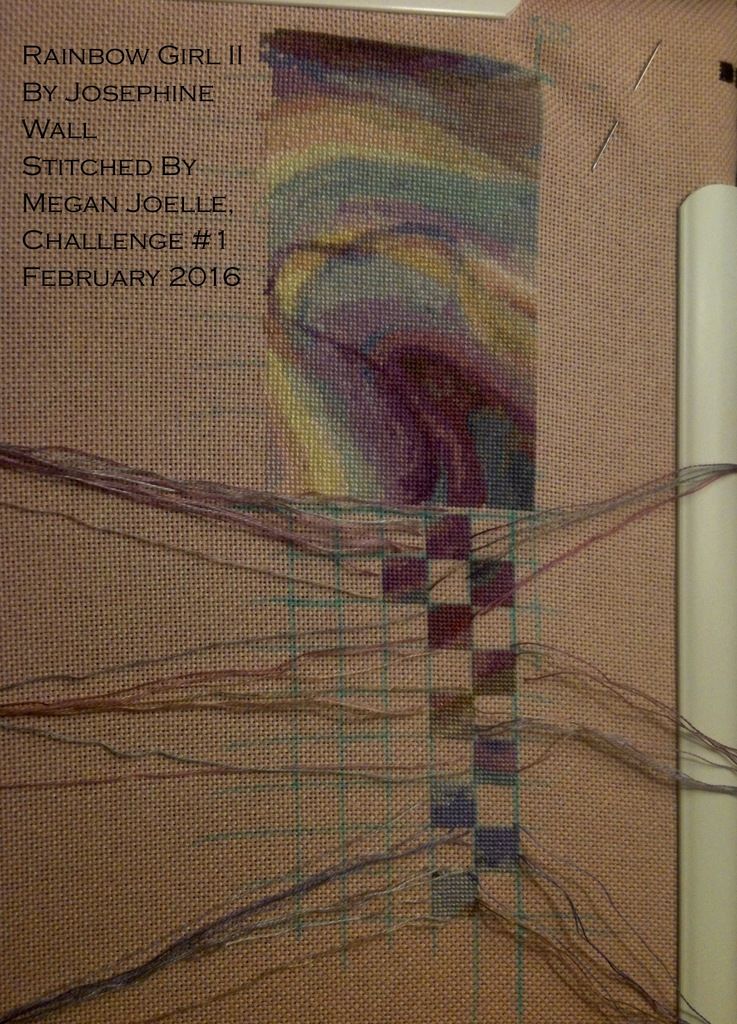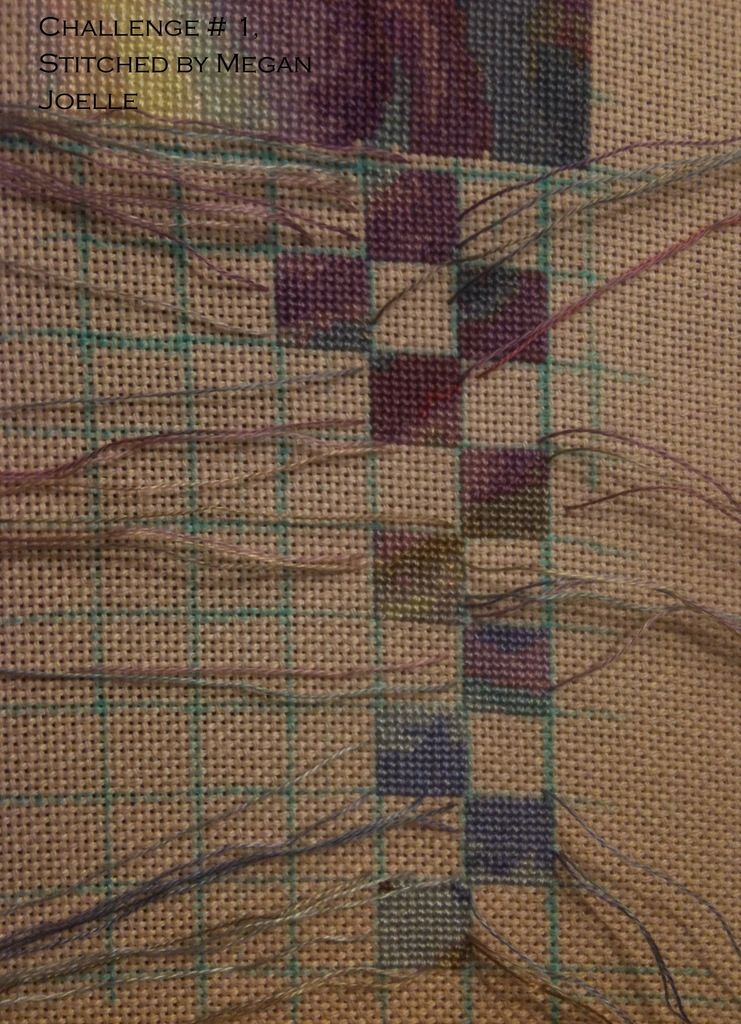 Although I kind of like the checkerboard effect, overall I didn't take to this way of stitching and found it more time consuming than my usual preferred cross country method.
I didn't enjoy being confined to working in blocks... Having to stay in the box drove me crazy lol! I did like the fact I wasn't reaching for floss bobbins much when working all the parked threads back in though… If parking again I would most likely not stitch in blocks and would work over a larger area.
Threads filled in: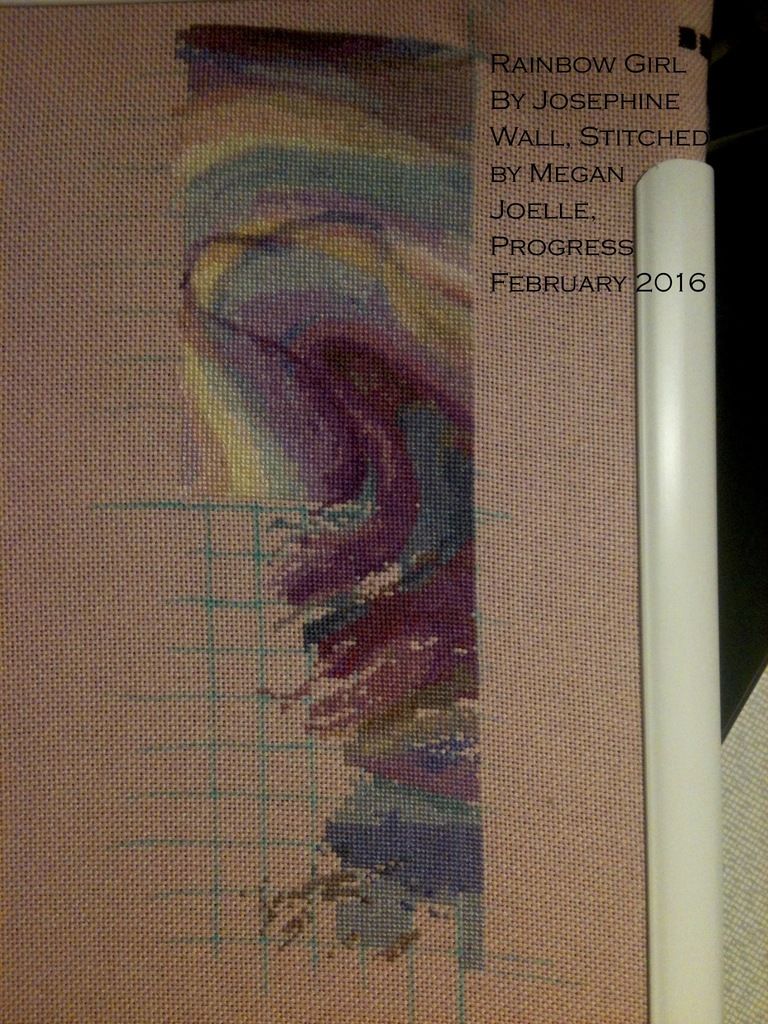 There were thankfully no very obvious lines left in the work from the block stitching. However, I still believe there is a tendancy for lines to develop when stitching in blocks, as there were a few faint subtle lines left after filling in. These are not too much of a concern though as they look faint enough to wash and iron out. They are definitely not as dramatic as the lines that form from working in straight columns. In my opinion this makes diagonal blocks a better option than straight columns for stitchers who do enjoy working in blocks!
Rainbow Girl, Rainbow, Twirl (From Blog Update November 2015)
The first page of Rainbow Girl is finished! I really enjoyed stitching the rainbow colours! I'm starting to get used to the feel of stitching 1 over 1 on 25 count and would certainly use this fabric and thread combination again. It's definitely up there with 20 count lugana (2 over 1) as a favorite combination of mine.
Progress update: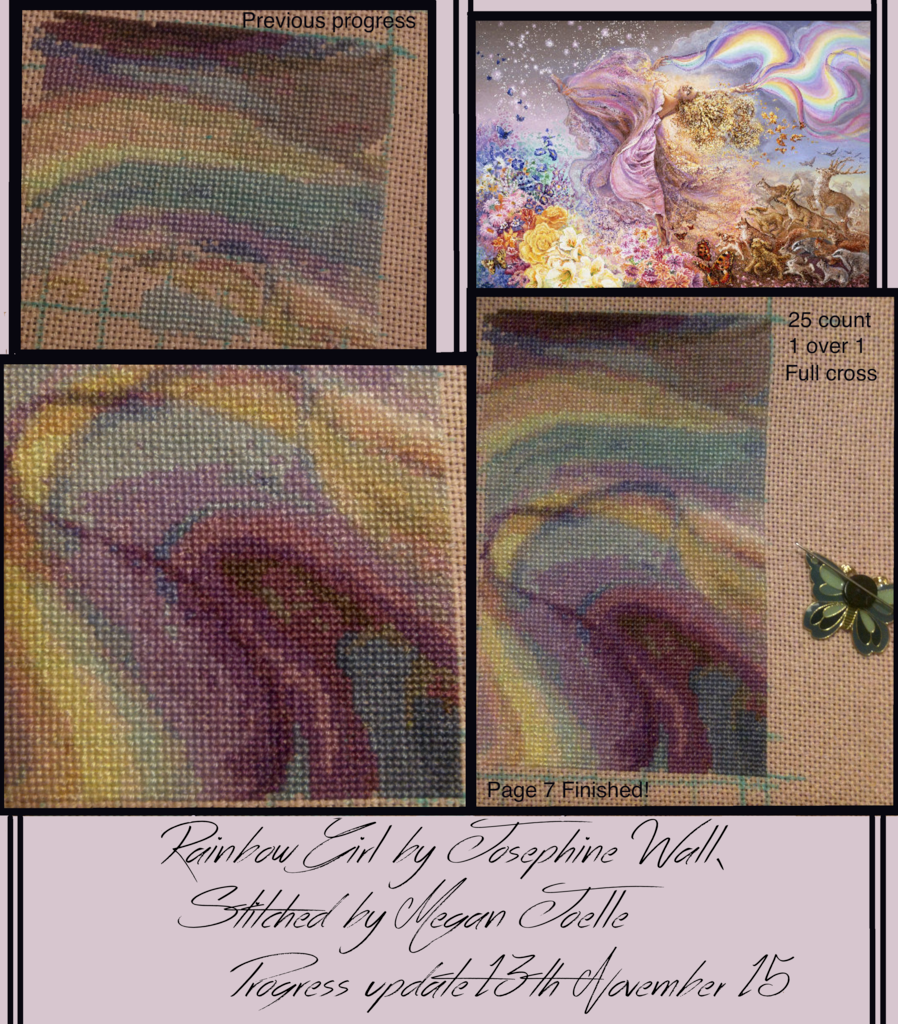 A Happy Dance (From Blog Update September 2015)
A big thank-you to Sandra Popek for the RAK she sent me and the beautiful sentiment along with it! I received the chart for Rainbow Girl II by Josephine Wall. I'm very excited about stitching this one.
Mock-up:
Link to chart
I've started in the top right corner as that rainbow was calling me! I haven't done much yet as I've only done several stitching sessions on it. I'm using method 3 currently but may need to modify this slightly in heavy confetti areas to prevent bulkiness.
Here is my start! I'm about halfway through page 7!: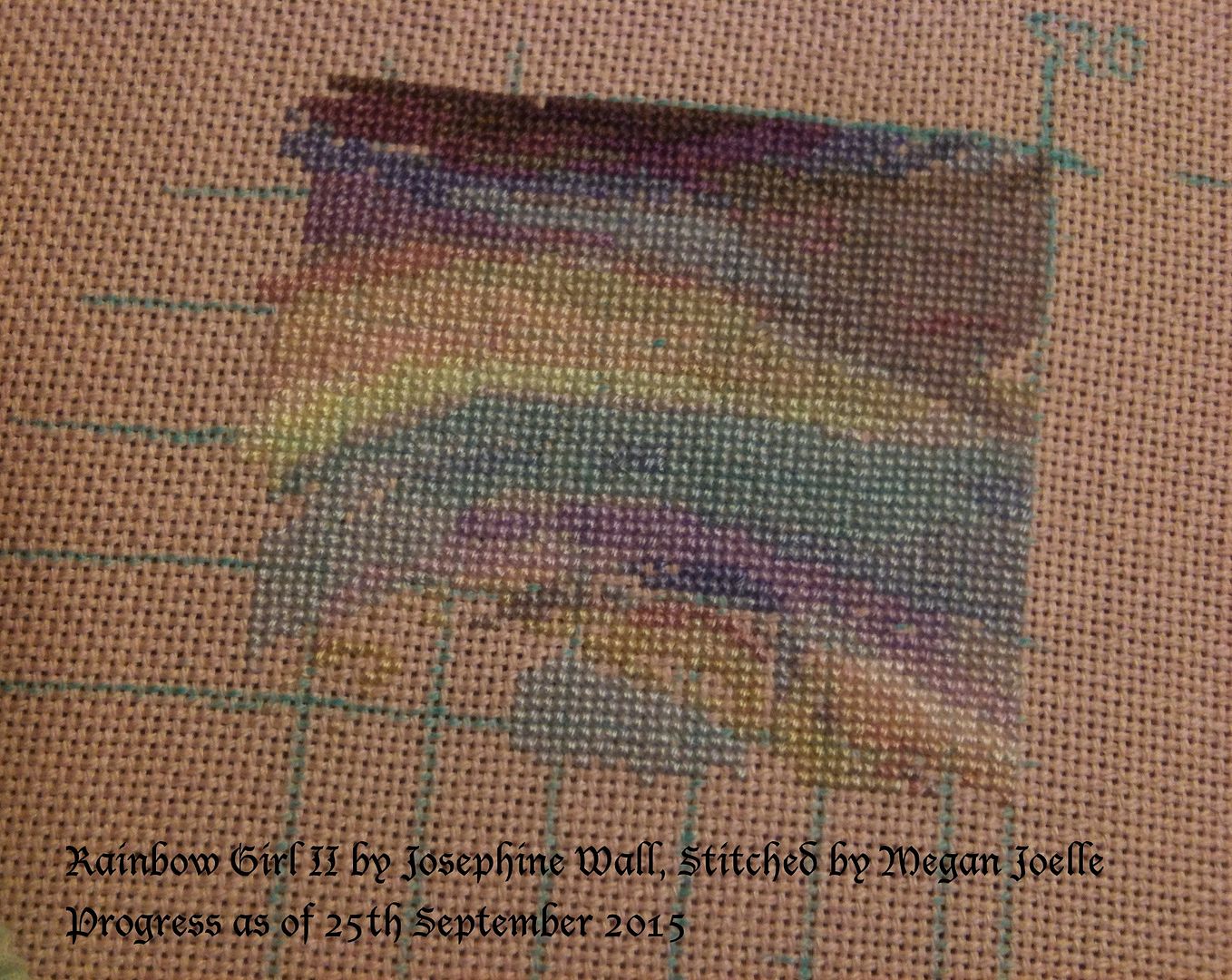 "Mother nature performs her dance of life with one foot in the flowers and the other in the stars..." Josephine Wall.
http://www.josephinewall.co.uk/rainbow2.html