The Queen of Spades
Let's Party! (From Blog December 2016)
Farewell to 2016
After what seems like days of getting stuck in confetti stitching it's finally come to an end! I managed to finish my 2016 Yearly Goals in time! There were two pages left to complete; one on Iris and one on The Queen of Spades.
Current progress:


This year I managed to complete a total of 10 pages on my HAED's!
Thanks to everyone for all the encouragement and comments throughout 2016. It's been fun sharing my stitching with you all. Wishing everyone a Happy New Year and may 2017 be your best one yet!
Happy Stitching xxx
From Blog Update, Friday, 23 September 2016
The Queen of Spades Sends Her Regards, Then What?
I've been stitching away on "The Queen of Spades" and hoped to have a page finish to reveal today... There is just so much confetti it didn't happen! It's been so refreshing to switch to a different piece, after spending what must've been months on Iris! I didn't realize just how much having a rotation of different projects keeps me motivated and inspired. Switching between pieces is fun, it creates excitement and keeps things interesting...
Current progress:
From Blog Update February 2016: "Curiouser & Curiouser"
I've come back to the Alice in Wonderland inspired chart I'm stitching by Stephanie Pui-Mun Law. This one is a bit of fun and funnily enough I am stitching it sideways… It makes me think of Alice's fall down the rabbit hole and it's kind of appropriate to not stitch this one the "right way up" or the "normal" way! Here is start on the next page:
Current Progress: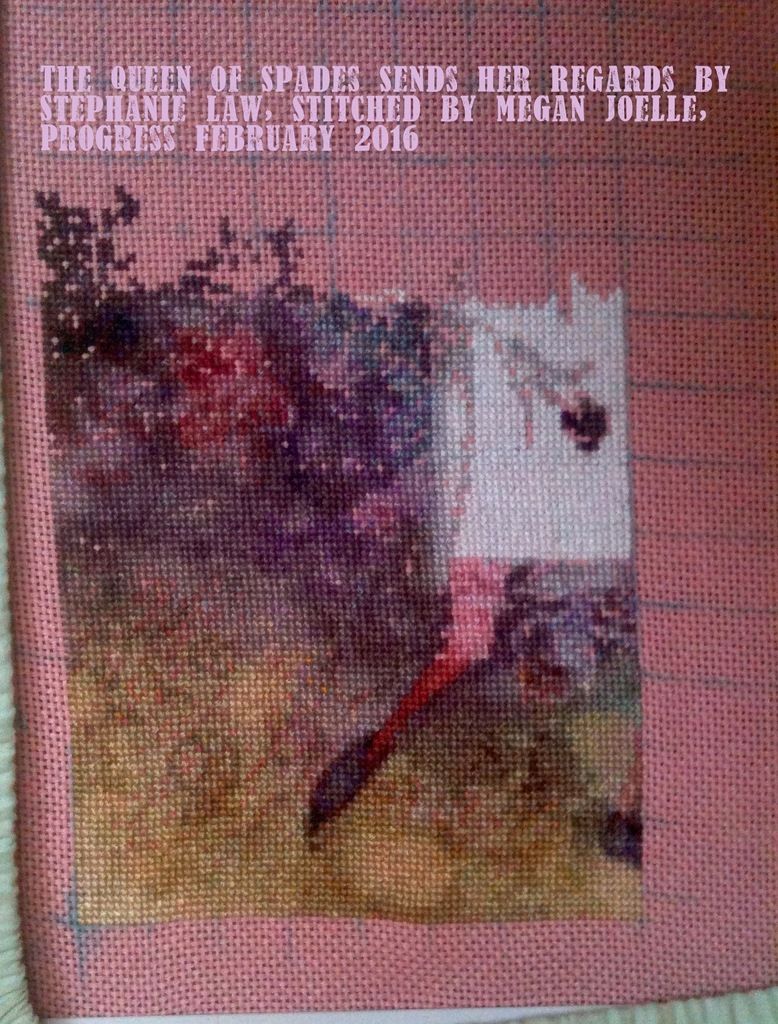 The Curious thing about Stitching Sideways:
I stitch landscape orientation charts sideways because they fit better on the q-snap frame that way. It means I don't have the snaps digging into the stitching as much (which I feel can damage the stitching to a certain extent, even with fabric between the snaps and stitches). There is a tutorial on Sideways Stitching for everyone who is unsure about how to approach it and interested in trying it out! For future reference I'll make the pdf file permanently available on my downloads page.
From Blog Update July 2015: "The Two of Spades Foot & Take Two on Goals!"
I have my first page finish on the Queen of Spades Sends Her Regards! The Two of Spades finally has his foot! I've started on page 19 which is a partial page at the bottom left hand corner of the chart.
Current Progress: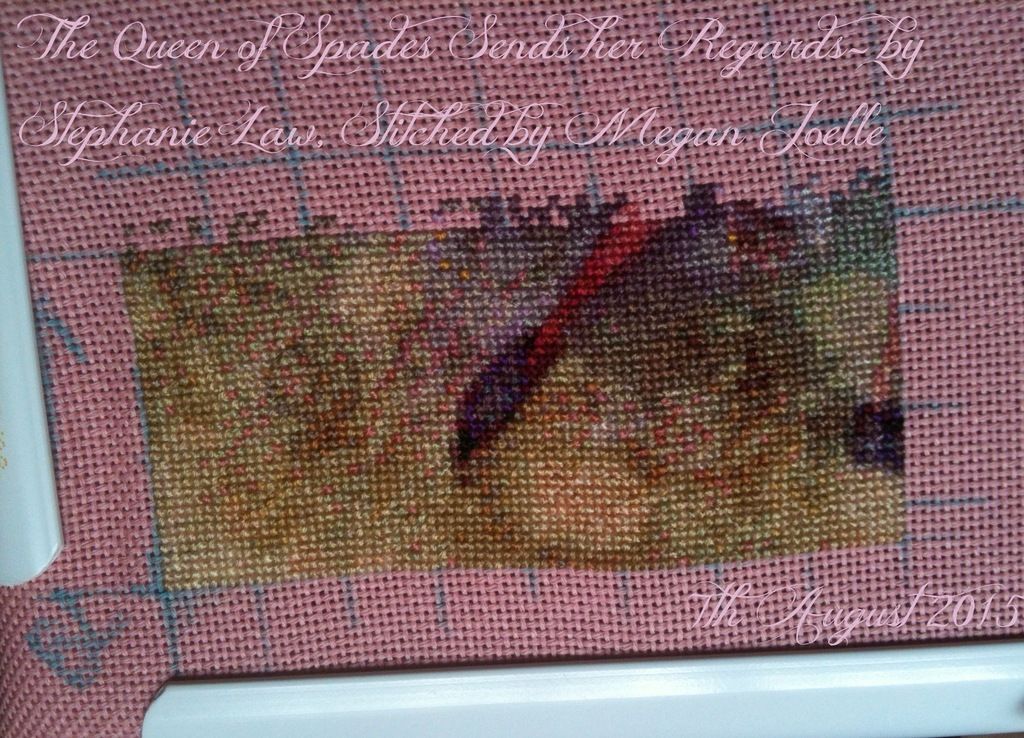 From Blog July 2015: "Megan Sends Her Regards"
I've been gifted Stephanie Pui-Mun Laws "Alice in Wonderland" inspired chart from my stitching friend Monica D. Vissoli! I'm sending out regards & thanks to Monica for "The Queen of Spades Sends her Regards!" This year actually marks the 150th Anniversary of Alice in Wonderland... So it's the perfect time to start stitching this chart!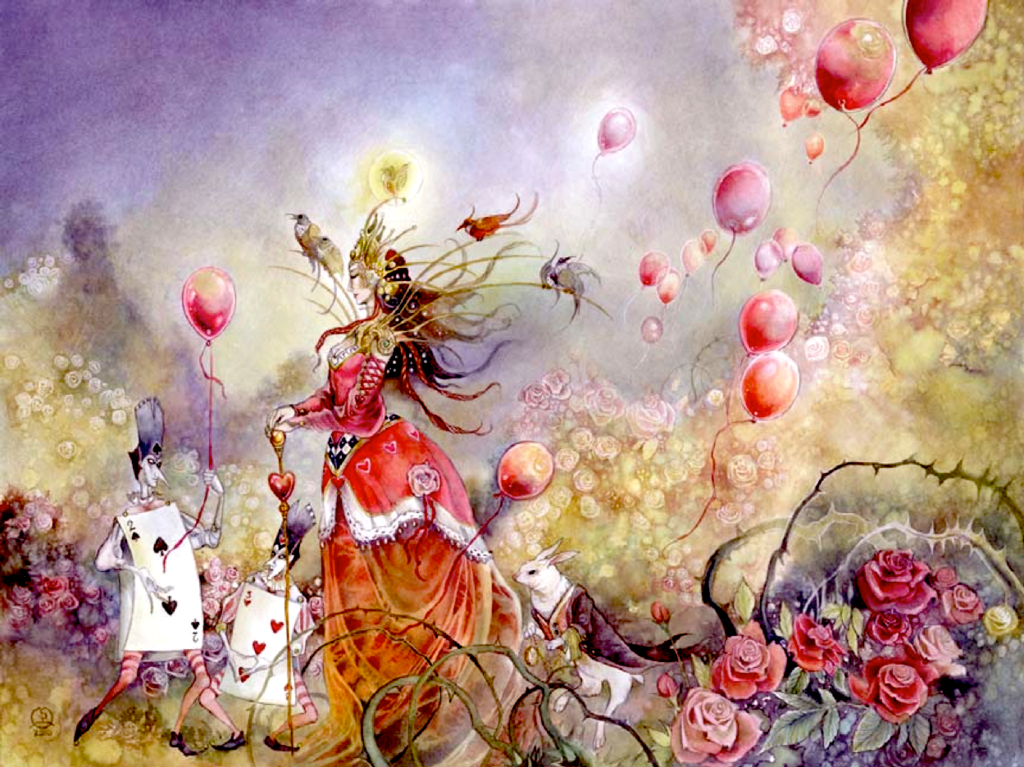 Link to chart
Chart mock-up:
I'm stitching it on 20 count Rose coloured Lugana, 2 over 1 full cross. I haven't done much yet but here is my start! The two of spades foot is appearing!: